The Key to Rondo
Leo is a sensible boy who would never break the rules, which is why his boring great-aunt Bethany thought he was the perfect guardian for the Langlander music box, and left it to him when she died.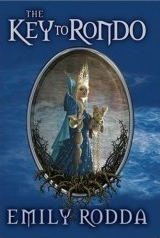 Leo's cousin, Mimi, is very different to him: she is a typical child prodigy, a gifted violinist, and someone who constantly asks difficult questions and refuses to accept the status quo. As Aunt Bethany's least favourite, Mimi inherits only a nondescript necklace that her older sisters don't want from the box left to all of them.
Leo's music box has been in their family for generations, and in all that time has been governed by four rules. Like the holders before her, Aunt Bethany drummed the rules into all the Langlander children at each visit to her home while she was alive: Never turn the key more than three times; Never turn the key or pick up the music box while the music is playing; and Never close the lid before the music has stopped.
But three turns of the key always means the tune is cut off before it finishes and this has always frustrated Mimi the musician. When she comes to stay with Leo's family she naturally decides to break some rules that don't makes sense to her.
Emily Rodda has written a gem of a story in The Key to Rondo, that will be enjoyed most by ages 7 to 10. Leo and Mimi are well-rounded, complex, and interesting characters and I enjoyed spending time with them. As opposites, they reveal each other's strengths and flaws perfectly and many children will identify easily with either of them.
Rodda writes with a light, skilful touch that makes this a very easy read. Although I found much of the story quite predictable, I thoroughly enjoyed the revelations just as much for the "Hah, I knew it!" feeling. Younger readers will likely still be surprised, and older readers will enjoy the subtle and not-so-subtle, references to traditional storybook characters and nursery rhymes.
The Key to Rondo is a fun, sweet story, and I highly recommend it.
The Wizard of Rondo
The Sequel to The Key to Rondo
The Blue Queen believes Leo and Mimi are stuck in Rondo. To prevent her finding out the truth, Leo and Mimi must return to Rondo and ensure they are spotted by the Blue Queen's spies. While there they join their old friends Bertha and Conker on a quest to solve the mystery of a disappearing wizard and an apprentice who has been turned into a mushroom.
Meanwhile, of course, the Blue Queen is up to something. Can Mimi and Leo avoid her trap?
The Battle for Rondo
The third book in The Rondo Trilogy
After a bizarre encounter with Spoiler, Leo and Mimi and their friends have to outwit an ogre and a dragon, while something strange is happening to the characters of Rondo. The Blue Queen is looking for several items and doing a lot of strange magic and if Leo and Mimi can only figure out what she wants these things for, they can thwart her plans. Spoiler knows something, but will he tell? With the help of a mysterious prophesy and an even more mysterious secret involving the Blue Queen, Mimi and Leo lead their friends into a battle of wits, wisdom, and courage.
Reviews copyright © Elsa Neal 2007-2010
---

The Rondo Series by Emily Rodda:
Emily Rodda is also the author of Tales of Deltora* and Rowan of Rin*.
*Book Depository is a better option for non-US book buyers.
Did you enjoy The Key to Rondo? Tell us about it!