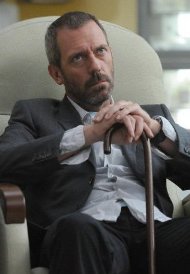 I've been fascinated by the character Gregory House (from the TV show House, M.D.) for a while now. Can he be called an "anti-hero"? Perhaps the term should be "anti-protagonist"? Or perhaps it is heroic, story-wise, to wrap one's brain through medical mysteries and save the patient in the nick of time, even if it is not the patient's life one cares about but his illness.
Whatever you want to call him, House is supposed to be anything but likeable. And yet he is a compelling and brilliant character. (Of course, it doesn't hurt that the character is portrayed by a superb actor in Hugh Laurie.)
What is it that keeps us coming back for more of this curmudgeonly arrogant bully?
The Mystery is Elementary, Dear Wilson
While the mystery to be solved in each episode falls under the domain of the plot, it is essential that the great detection and explanation is made by House, the detective-protagonist. Audiences and readers can forgive a lot in a good detective, as long as he delivers the goods: the juicy mystery solved in the most theatrical way possible.
Is He Serious?
House says things that are meant to shock. They are unexpected coming from a medical professional who is supposed to pay lip service to a vaguely acceptable bedside manner. House always catches new patients and their families off guard; they give him the benefit of the doubt, waiting for the punchline. He disorientates them long enough to get away with his remarks before hitting them with a flash of genius.
Inspiration Strikes
On the other hand, House's colleagues and the audience know him well enough not to be distracted by his outrageous comments, but expect, instead, the now-familiar pause in the middle of a monologue that precedes his declaration that he has solved the mystery by linking it to something bizarre and seemingly unrelated. We are dragged along in fascination as we wait for the explanation as to the connection.
Relationships
Most importantly, though, in all fiction is the relationship between characters. Readers cannot identify with a character in a relational vacuum; readers need context. The element that saves House episode after episode is the grudging respect the other characters have for him. Wilson places such a high value on House's friendship that he is willing to accept the worst possible treatment from him; he's had his life, his relationship, his home, and his privacy turned upside down by House. He's tried to end the friendship numerous times yet House is the person he needs to have with him when he is at his most vulnerable. Cameron and Cuddy both went so far as to fall in love with House and tried to rescue him from himself. Cuddy lied under oath for him. Foreman, Chase, Thirteen, and Taub cannot stand to work for House, but they do anyway; they stay, they leave, they return: something draws them to him.
And then there are the "minor" characters who play a major role in showing the audience who Greg House really is and why he is worth our time. Remember "Scooter", the med school admin officer who masqueraded as a doctor to join House's team? Scooter mirrored House's thought processes but with a calm, dignified demeanour: House as he might have been without the arrogance, bitterness, and addictions. Would Scooter have turned into a House had he been given authority and power like House instead of being an employee for 30 years?
Tritter, the cop out to get House, pushes House to breaking point. For the first time the audience has the chance to feel sorry for House while experiencing shock that, this time, House is not going to get away with what he usually would.
Which takes House into the hands of rehabilitation psychiatrist Dr Nolan. Nolan is more than up to the task of House-keeping. He is another character with patience and dignity who seems to know exactly what House is thinking and how to handle him. But the switch in the relationship is what makes it so compelling: it is a game as long as both are trying to out-think and out-manoeuvre the other. It's less of a game when House begins to need Nolan. And the game is over when Nolan needs House.
Every relationship needs both participants to alternate support and vulnerability; being the "strong one" and the dependent one; the give and take. And every character needs a relationship. It is the most vital element of a good story.
It's easy to write unlikeable characters who bore or offend your readers. It takes far more skill to write a character your readers are drawn to despite his flaws.
More on the importance of character relationships
House : Seasons 1-5
House : Season 6