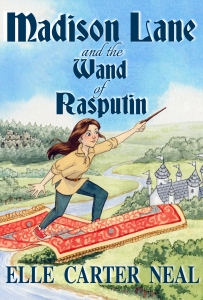 Madison Lane and the Wand of Rasputin is available in paperback and e-book (Kindle, EPUB, and PDF).
Australian residents can purchase a signed print copy directly from me for AUD$22.00 (with free shipping):
Please use the comment box on PayPal to indicate for whom you would like the book signed, and also if you wish your book to be shipped to a different address to the one you list on PayPal (please provide the full name and address).
Alternatively (unsigned) - your local bookseller can order a copy for you (ISBN: 9780992443818), or you can purchase from online retailers such as Powells and Book Depository. For Australians who don't wish to purchase through this website, I recommend using the search engine Booko to find the cheapest seller as the prices tend to change.
Residents of other countries should compare prices between your local online retailers, Powells, Book Depository, and Amazon (if you have a local warehouse in your country):
Amazon US | Amazon UK | Amazon CA | Amazon AUS | Amazon IN | Amazon DE | Amazon FR | Amazon ES | Amazon IT | Amazon NL | Amazon JP | Amazon BR | Amazon MX